Shanghaiist has an
interesting post
based on a
list made by Virgin Vacations
of the top 11 (why 11? who knows?) subway systems in the world. The list has Beijing ranked 9th, while Shanghai went unranked (there's no love for Chitown either!).
I should start out by saying that I absolutely LOVE Beijing and I HATE Shanghai with equal passion. However I'd take the Shanghai subway system any day of the week over Beijing. Perhaps since the list is focused on "underground transit" they dock Shanghai because a number of the stations (at least on 1 or 2 of the lines) seem to be above ground, but that can't be it because they credit Beijing for "interesting architecture on the newer subway lines," however all of these are above ground. More likely is Shanghaiist's guess that Virgin is just trying to sell more plane tickets to Beijing. Even this avowed hater of all things Shanghai gets jealous when he sees the ability of those in Shanghai to simply place their wallet or purse (with their card inside it) on the scanner and so easily pay for the subway, taxis, or buses while I'm stuck standing in line for 10 minutes some mornings to buy a subway ticket. The list does state one reason why they like Beijing's subway is its "ambitious expansion project" which is very true. The subway will go from this: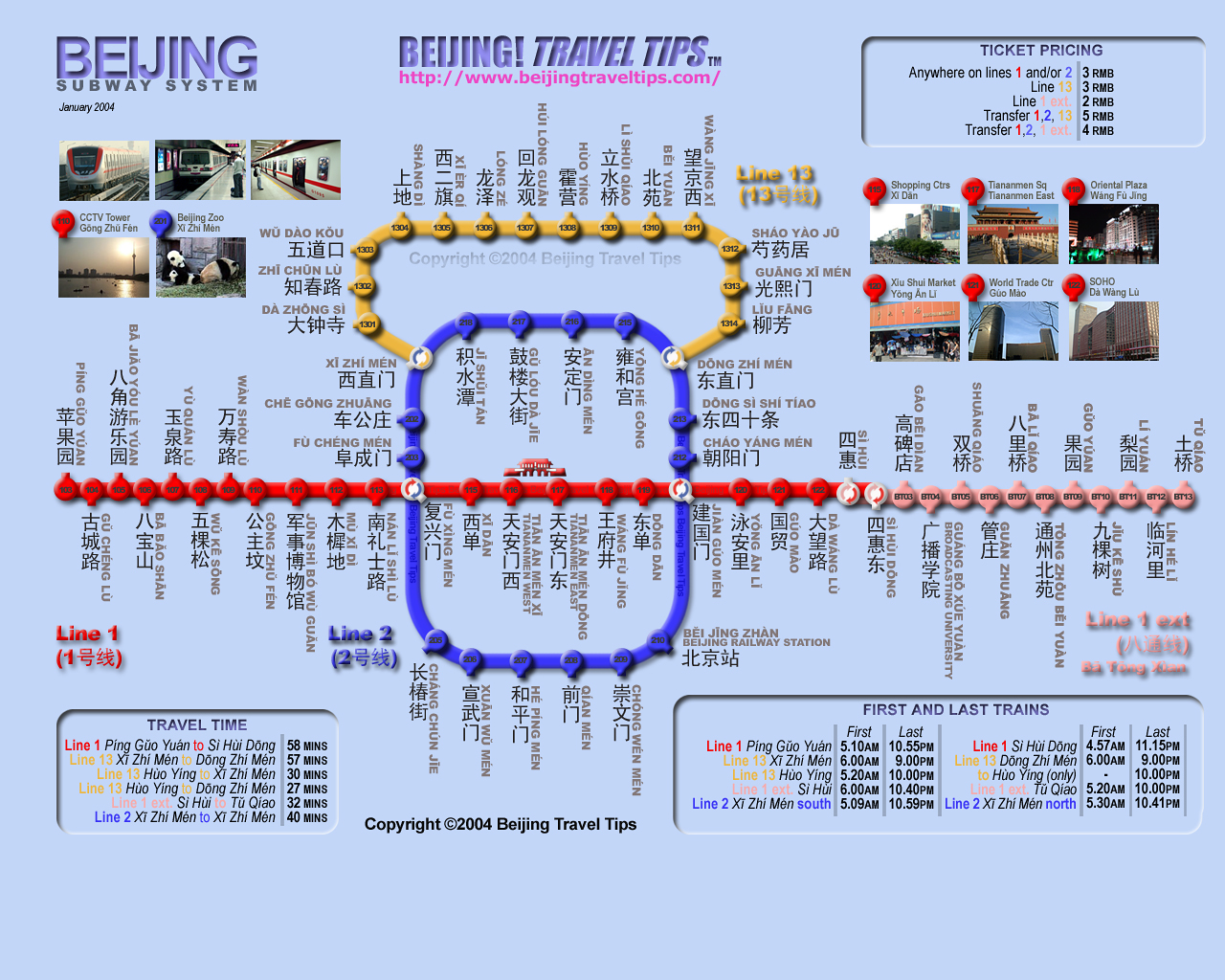 to this:
by the 2008 Olympics. While it may not be as long as Shanghai's subway system, it will get you to everywhere you could want to go in Beijing.
It escapes me, as a rider of Beijing's subway on a regular basis (and an occasional rider of the Shanghai subway system) how my beloved city could be ranked ahead of Shanghai. Perhaps Virgin enjoyed the quaintness of buying your ticket from an actual person and then 10 steps later giving your ticket to an actual person (certainly the only subway system in the world with this feature). Or maybe Virgin loves the huge crowds when changing from Line 1 to Line 2, which causes people to start acting as if they are blocking for a star NFL running back, throwing elbows left and right. Perhaps it could just be the strange numbering system where you have Lines 1, 2, and 13 plus the newest line which is coming soon and will be Line 5. It boggles the mind...
Some pictures from inside Beijing's Fuxingmen station (sorry for the quality):