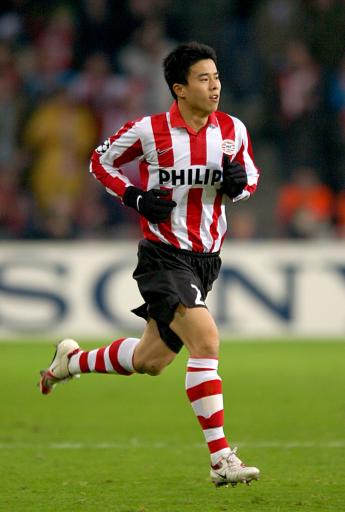 First, I wanted to note that history was made today when Sun Xiang (seen above) came on the pitch in the 65th minute of PSV Eindhoven's Champions League game against Arsenal. Sun became the first ever Chinese player to compete in a Champions League game, a great accomplishment.
On a non-China related front, I'm sorry, but if the death of American news hasn't already occurred (probably circa 1994 during the OJ Trial), its happening now. Anna Nicole Smith was famous for having a big chest and marrying (and then divorcing) an old guy. Her death, like all deaths, was a tragedy, but now, almost two weeks after her death, its still garnering headlines on tv news channels. The US is at war and could quite possibly end up starting another war. There is a lot of things going on in the world, the last thing that news media should be talking about is Smith. In a more perfect world, the
crimes and death
that occur on a daily basis in inner city America would get more coverage. Perhaps this is one of the greatest advantages to being in China and only having CCTV News, you get to miss out on these media created obsessions.
The rapper, Jin, is releasing a new album today, though this one will be entirely in Cantonese. As someone who is Chinese and a big hip hop fan, there's always been the desire to see an Asian rapper make it big. Sure, there's the Mountain Brothers (who almost tasted mainstream success) and
Snacky Chan
have been holding it down on the hip hop underground for awhile, but nobody really made it mainstream. Then, Jin made it big on BET's Freestyle Friday, got signed by Ruff Ryders and it looked like there was going to be an Asian rapper making bank in the mainstream. His first album, for a variety of reasons (lack of marketing, too many cliches, race(?)), was a bit of a disaster and led him to being dropped by his label. I lost a little love for him with his Uncle Tomish lyrics from that album, though he came back stronger in his independently released 2nd album. It feels a bit disappointing that his latest album is Cantonese, but its good to see he's getting at least a bit of press pub, you can
view the article
or
check out the podcast
.
In what has become an annual tradition, Hu Jintao visits "the people," this year
traveling to Gansu Province
.
Finally, Time's China blog offers a witty (and harsh) criticism of
CCTV's annual Spring Festival program
. I haven't watched this year's show, but the reviews are in from friends and this year the show has hit a new low. As the blog points out, there are so many alternatives nowadays and so the show is losing traction as it has long lost its freshness (or in US terms, it jumped the shark at least 4 years ago). Anyways, its time to either start from scratch and make it "new" again or completely scrap it.
On my way out, here's a clip from back in the day when Jin was hot! He may not be the best at writing rhymes, but "off the top" he's a crazy battle rapper.